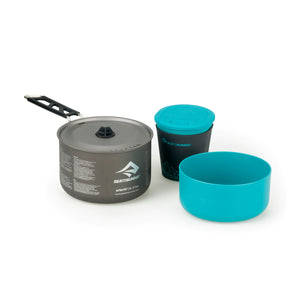 Perfect for solo adventures, the Alpha Pot Cook Set 1.1 is the ultimate lightweight and compact cook set to prepare your backcountry meals.
Constructed from a hard anodized alloy, the Alpha Pot is durable, abrasion-resistant and very easy-to-clean. It features an innovative Pivot-Lock handle that securely locks into place during use, an easy flow strainer lid, and a silicone Lid Keep which hooks to the side of the pot when cooking.
The space-saving Delta Light Bowl and Insulated Mug also neatly nest inside the Alpha Pot for compact storage.